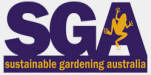 Summit Landscape Consultants Pty Ltd prides itself on high quality workmanship, innovative design, and environmentally sustainable construction.
Summit Landscape Consultants Pty Ltd was founded in 1998 by George Cotsonis.

George completed his Bachelor of Town Planning and Master of Landscape Architecture degrees at Melbourne University in the mid 1990s and is one of the only hands on landscape architect / landscape builders in Victoria.

He is also a registered building practitioner with the VBA and has extensive experience in construction. His time working with legendary landscape architect Gordon Ford instilled a great respect for the Australian bush, which continues to inspire his designs and use of recycled materials and natural products in his work.

Since 1998 Summit Landscape Consultants have completed a range of projects from residential gardens to school landscapes and commercial sites. We provide a full in-house design and construction service, including landscape architectural drawings for town planning.

We aim at providing creative and functional outdoor areas which are aesthetically beautiful and sustainable.